What did you learn in school today?
As I whined about yesterday, at the start of every semester we Tri-C faculty members are required to endure...I mean attend...three days of "convocation." Each day consists of one or more "inspirational" speakers and many more less inspirational college employees describing their various projects.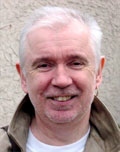 Today I found the first speaker, Dr. Stephen Brookfield, pretty interesting. Truth of the matter is, he said pretty much what every one of the speakers in the last few years has said: Be authentic. Take risks. Be prepared for surprises. Listen to students.
Maybe it was his British accent and low-key manner that won me over, but I paid attention all the way through his talk, which is more than I can say for some of my colleagues.
In thinking about what he said, a couple of things stick with me:
His admission that he's disappointed when he doesn't reach every student all the time, despite knowing that it's impossible to do so. I have similar feelings of failure in that respect.

His comment that he often feels like an "imposter", especially when speaking to a group of peers.
I was in a workshop once with several of America's best designers (names you might recognize if I mentioned them) and everyone joked about that feeling when you get up in front of a class for the first time. In our group we called it the "fraud complex."

His description of bringing in former students on the first day of class to speak to the new students about how valuable the class was to them.
I do something similar in my Portfolio Preparation class, but I've never used his approach of leaving the room so the students can talk candidly. I'm going to try this next time around, but I'll admit to being just a little worried about what might be said.

His technique of asking a few simple questions, anonymously and frequently, like: "At what moment in class did you feel most engaged?" and "At what moment did you feel most distanced?"
These answers give important feedback on how what you're doing actually comes across to students. It's not always what you expect, and it's good to learn that sooner rather than later.

He also made the point that students expect and need you to be an authority on the topic. If you're too hesitant about stating your expertise it may make them anxious about the value of the class.
So I have to admit I learned a fair amount from the guy; I thought I might remember only one or two points.
For more on this, straight from the horse's mouth, so to speak, visit StephenBrookfield.com
TOP | | |
ARCHIVE
AUGUST
JULY
JUNE
MAY
APRIL
http://www.veryshortlist.com/images/days/255_chart.gif