Chilly in Klamath Falls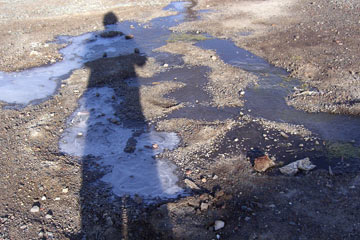 We pulled into Klamath Falls, Oregon on time and were told we had a two-hour wait due to track work ahead. They warned us of the 38 degree temperature, so I put on my North Face rain jacket over a long-sleeved shirt. I still wasn't prepared for the frozen puddle in the parking lot, and the brisk wind that made it seem colder than 38.
But Amtrak gave us free coffee in the station, and holding a cup for warmth I walked to the first visible stop light about a quarter mile from the station. Ahead was a big building with an arched roof that looked like an auditorium of some sort, and the sign said Klamath County Museum.
What the heck. It was only $4 and I had nearly two hours, so I wandered through the dimly lit and dusty exhibits. It was a museum from the 50s, with hand-lettered signs, stuffed animals, old photos and a fine collection of antique washing machines.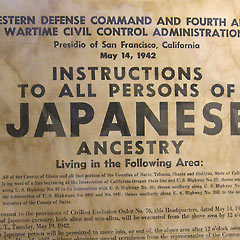 Particularly poignant with their matter of fact descriptions were displays of the WWII internment camp for Japanese-Americans at nearby Tule Lake, and others depicting the war against the Mondoc Indians. One panel even had a neatly lettered tally sheet of those killed and injured on both sides.
Something I had only vague knowledge of was the highlight for me of the museum: pieces of a Japanese balloon bomb, one of which had exploded nearby in 1945. Several people were killed in this incident, the only Americans to die on U.S. soil due to enemy attack.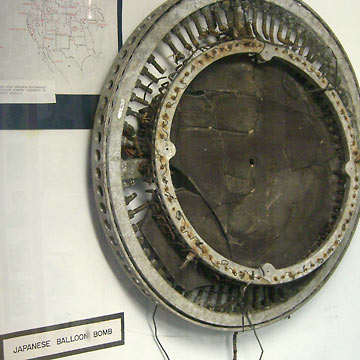 The Japanese sent thousands of balloons aloft carrying explosives and incendiary devices, hoping that the jet stream would carry them to the U.S. where they would descend and set forests ablaze. The goal was to force the U.S. to withdraw troops from the overseas war effort to protect our own West Coast.
According to the map seen in the top left of the photo, bombs reached many states, even a few as far east as Illinois.
Around 9:30 I began to feel antsy in the museum, thinking how much I didn't want to miss the train if they decided to pull out earlier than the scheduled 10:25. So I walked briskly back to the station, keeping an eye on the train in case it showed signs of moving. I planned how I would sprint across the parking lots to the tracks, waving frantically and yelling.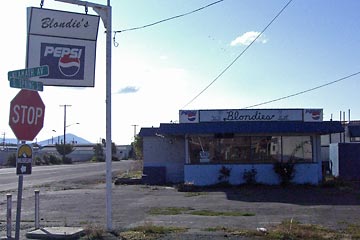 I stopped long enough to snap a photo of Blondie's—at the corner of Klamath and E. Spring St.— a place that in better days I'd have gone to for lunch. But Blondie's has fallen on hard times. The whole town seems to be just hanging in there, at least at 9:30 on a Saturday morning.
Back on the train—with about a half hour to spare—I had plenty of time for this update. Now we're rolling again through semi-desert, not too different from New Mexico and parts of California. Pretty, in its way.

Add your comment by clicking below.
Top | |