To Santa Fe
I slept a little better last night thanks to the $5 inflatable travel pillow I bought at CVS in Chicago. Still I spent quite a bit of time in the lounge car, talking with other passengers and sipping the occasional beer. One time I returned to my coach seat to find someone in the aisle seat next to me—a rather wide-bodied woman who was settled in for the night. So I gingerly stepped across her and sat down in the reduced space left. I gradually reclaimed most of my shoulder and hip room by every now and again stretching or shifting my weight. We reached a fair distribution of space after an hour or so.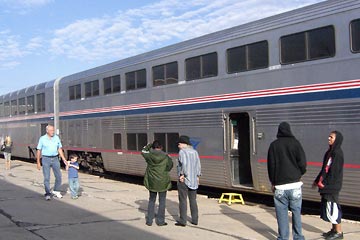 At dawn we were in Kansas, crossing over into Colorado a few hours later. We had a welcome but brief station stop in La Junta where the smokers rushed to light up and the rest of us just enjoyed the sun and fresh air.
We'd lost an hour or two waiting for barges to go under a bridge on the Mississippi, then got stuck behind a slow freight for a while. But in Colorado we made up time. It was a gorgeous day, which we enjoyed at a brief station stop in La Junta.
We arrived in Lamy, New Mexico about 40 minutes late. From Lamy it's a 20 minute/20 dollar shuttle ride to Santa Fe. The driver was quite hard of hearing, so conversation with him was a struggle. He'd lean way over to hear me better, making me pretty nervous about his attention to the road ahead.
I had a much better conversation o n the shuttle with Regina and Pat, the charming and enthusiastic hosts of Grannies On Safari, a PBS series that features "two middle-aged African American women who are best friends" traveling the world. I'm looking forward to watching their show when I get home.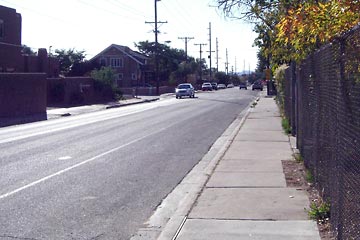 In Santa Fe I had a 20-minute walk to the house where I'm staying. My first impressions of the city, as I dragged my suitcase along a hot dusty street with narrow sidewalks and unpredictable curb cuts, wasn't particularly positive. Everyone I've talked with has said "you're gonna love Santa Fe," so I think I was expecting to arrive in a Garden of Eden. This was a pretty unappealing city street.
I know from experience, though, that you have to give yourself time to get adjusted to the feel and atmosphere of any city. You've got to get past your expectations, good or bad, and appreciate it for what it is. And in Santa Fe things got better in pretty short order.

Have any good travel stories? Add your comment by clicking below.
Top | | i