Democracy in action
For the past thirty years or so we've had our one big party of the year on New Year's Day. It's an open house that runs from 1 or 2 in the afternoon 'til 1 or 2 in the morning. Today was the day, and Joanne decided she wanted to find out who our friends were supporting for president in 2008. Thus was born the Official Fake Democratic Primary Election, or as I prefer to call it, the 32nd St. Caucus.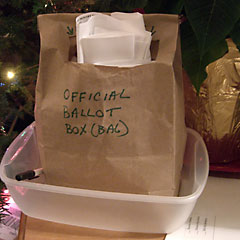 Since we're in Cuyahoga County, where election technology is becoming more and more sophisticated, we spared no expense to install the latest Diebold election system. Privacy, security and fraud prevention were our top priorities, just like Diebold.
Unfortunately none of the candidates were able to speak to our delegation (made some lame excuse about "other commitments) but we went ahead anyway. Thirty-four votes were cast, by my estimate a turnout of about 60% of the potential voters.
The official results, announced at 9 pm:
Hilary Clinton - 9
Barack Obama - 9
Joe Biden - 6
John Edwards - 6
Dennis Kucinich - 4
Christopher Dodd - 0
Mike Gravel - 0
Bill Richardson - 0
Some of the comments that accompanied the ballots:
Given the choice of candidates, I'm willing to risk & cast my lot with Obama's having the most potential (progressive leadership).
Biden has the best Iraq plan, the rest are good/bad on different issues. Kucinich is great on lots of issues, but would be a bad president.
(Kucinich) A nut but straight shooter.
(Edwards) Cute, charming, good on issues, & savvy politico.
(Edwards) He is focusing on poverty.
Clinton represents the biggest change from what we have now. I hope Obama, Edwards, Biden, Richardson & Dodd all get appointments to Cabinet.
(Biden) He thinks.
(Biden) Actual intelligence scares people.
(Clinton) I strongly feel that her possible presidency will bring Bill Clinton back, and that soap opera drama redux... (Obama) I don't know—can he win?
(Obama) Early anti-Iraq war stance. Articulates his positions in a way that helps to unify positions rather than separating them.
(Obama) More of a practical populist than the others (except perhaps Richardson and/or Edwards). Still has a trace of idealism. Hopefully less of a suck butt getalong "liberal" than the previous Dem prez.
(Clinton) However, my financial support goes to Dennis—to help him get his message out.
Top | |