Made in...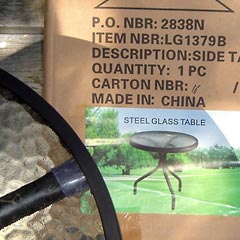 After making a rather snide remark a couple of days ago about buying stuff made in China, I felt a bit guilty as I assembled this fairly nice glass-and-metal table to put on our deck.
It was hard to ignore the big MADE IN: CHINA on the carton. And yes, it was really cheap.
Later in the day, though, while I was shopping for more RAM to add to my new iMac which runs verrrrrrry slowly with its stock 1 GB of RAM, I had a pleasant surprise.
The cheapest 2 GB memory module I found was from Crucial.com. In reading about the company—a division of Micron Technologies, one of the largest DRAM manufacturers in the world—I was stunned to learn that they make their products in the U.S.A.
I whipped out my credit card to order the RAM module only to find out that they are currently out of stock. Too good to be true, I guess. But I'll wait a couple of weeks and hope they restock before the Fall semester starts. This is a rare case of buying locally (sort of) and actually saving money.
TOP | | |
ARCHIVE
JULY
JUNE
MAY
APRIL