A peek into Corporate America
Unlike many of you, I have virtually no experience working in the corporate world, unless you count summer jobs during college with Dow Chemical and Republic Steel in the 60s. After graduation I worked for a local department store (The May Co.), then a small design studio (Kaleidoscope Art), and later a non-profit religious/social action organization (Greater Cleveland Interchurch Council). In the mid-70s I started my own design business. By choice my clients were small local printers like Angel Press, Christopher Robin Press, and nearly every small non-profit organization in the area.
I deliberately avoided the corporate world because at the time it seemed like the "belly of the beast"—capitalism with a capital "C"—and maybe I wasn't sure I could cut it in that environment anyway. For all these reasons I never wanted to work for a big corporation. A meeting I went to tonight did nothing to make me regret my choice.
The event was the local celebration of World Usability Day, an event started in 2005 to promote making products and services easier to access and simpler to use. The local event was a panel discussion with usability professionals from several top Cleveland firms. It was hosted by a large local bank in one of their corporate office buildings, and that's what made the biggest impression on me.
Things didn't start well. The building is one of those generic glass and steel boxes that have sprouted like dandelions near freeway interchanges everywhere. Even though I had good directions for finding it, after driving past a gauntlet of chain restaurants I was in a big parking lot. The surrounding buildings all looked alike, none particularly welcoming. I checked the address I'd written on a scrap of paper, looped back around the parking lot, and finally noticed an address next to the door.
Inside the security guard was none too friendly as I announced I was going to the Web Usability meeting, but his partner seemed to know what I meant. He asked for my driver's license, took it and slipped it into a three-ring binder with plastic pages filled with a collection of other licenses. He told me to sign in and in return handed me a "Visitor Pass"—No. 74—on a neck strap. I put it on and followed a guide to the elevator and meeting room.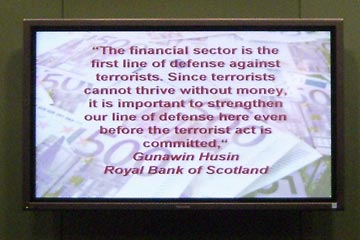 Upstairs the meeting area was decorated in neutral corporate colors, but the food was good, the attendees friendly, and the panel discussion—while too formal for my taste—was informative.
Afterwards I walked towards the elevator and noticed a large video monitor on the wall. A series of slides said "Welcome to the Tiedeman Campus" — "Symposium on Terrorism and Terrorist Financing" — "Brookpark Room, Second Floor" — and then the quote you see here.
I sure never thought of it this way (and am not sure I agree), but this might explain the building's overly-paranoid security precautions. Welcome to Corporate America.

Add your comment by clicking below.
Top | |