Pigeons & people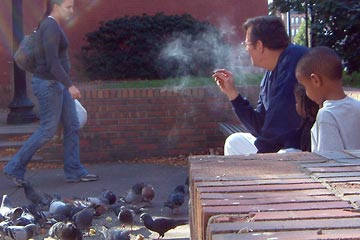 It started with a big flock of pigeons chowing down on the pieces of bread and donut that he dumped out of the plastic bag, but before long people started to flock around too.
It was a cool afternoon, and the dozen or so humans relaxing in Market Square Park across from the West Side Market were all clustered in the sunny spots, like the half of the bench along the wall.
The man works at the nearby Dave's Supermarket and said it would all have gone to waste otherwise, so why not give it to the birds. The kids couldn't resist all the activity, and before long mom joined them. I chose my spot in the sun nearby so I could watch the action.
The man seemed to prefer the company of the birds, and soon left the bench to stand off to the side as they finished the last crumbs. I drank most of my decaf cappuccino, picked up my bags of veggies, cheese and lunch meat, and headed home.
Top | |

Last peppers of the season
I love peppers: red, orange, yellow, purple, even green ones. They're the only vegetables that I love to grow, and the last couple of years I've been expanding my little garden patch.
I'd have to say that this year's peppers were semi-successful. I grew an assortment of colors from seed but didn't get them in the ground until early June.
The light yellow ones ripened first, but had little flavor. The red and orange ones took their good old time, but we got a couple of each last month. A couple of weeks ago the plants had a growth spurt, with lots of new blossoms appearing.
While we were gone last weekend, a couple of the plants with good sized peppers on them broke due to the weight—I didn't get around to tying them to stakes until today. Not sure what color they would have become.
The purple peppers are now ripening—finally. We're supposed to have at least another fairly warm week, so we may get three or four more.
The plants I grew from seed never grew as tall and lush as the ones I bought last year's from Foote's. The peppers themselves were fairly small, but most of them ripened earlier than last year's batch. Not sure whether next year I'll go back to buying plants, or try seeds again. There's a certain satisfaction to making the whole process happen start to finish, but the results weren't as good as I'd hoped for.
Top | |