JANUARY 8, 2009
Dueling divinities
Today my friend Jared and I walked around the neighborhood for about an hour. After a short stop at Gypsy Beans for coffee we headed toward home. Jared suggested we turn down West 57th St., one of his favorites. It didn't look familiar to me, and little did I know that not one but two churches would vie for our attention in the first half block.
This small structure with an imposing entrance caught my fancy, mostly because of its name:
UKRANIAN
AUTOCEPHALOUS
ORTHODOX
CATHEDRAL OF S.S.
BORIS AND GLEB
"Autocephalous" means "having its own head." I take this to mean that this single church is its own cathedral, presumably headed by a bishop appointed from within its own ranks.
Sort of like, "I'm going to start a church, and I'll appoint myself bishop." Or maybe not.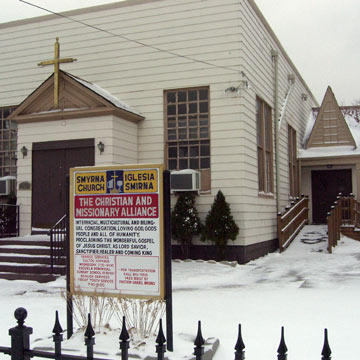 Almost directly across the street from the Eastern Orthodox cathedral is the equally small but less imposing Symrna Church:
INTERRACIAL, MULTICULTURAL AND BI-
LINGUAL CONGREGATION, LOVING GOD, GOD'S PEOPLE AND ALL OF HUMANITY.
PROCLAIMING THE WONDERFUL GOSPEL
OF JESUS CHRIST, AS LORD SAVIOR,
SANCTIFIER, HEALER AND COMING KING.
I'm not a religious person and don't expect to be attending services at either of these churches anytime soon. Still, this range of theological choices on one block is one of those things I love about the Near West Side.
If you want diversity, we got it.
Top | |