Farmers' Market with a flair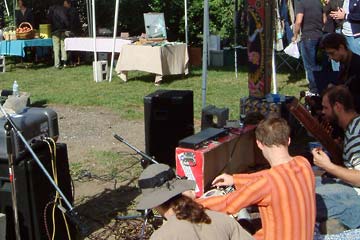 On a sunny Saturday morning a visit to a Farmers' Market seemed like a good idea. The soundtrack for this one, provided by the musicians at right, was a little different from most:
But somehow it fit. It's Tremont, after all, the more artsy, somewhat hipper version of my neighborhood. I enjoyed the techno-Indian aura as I shopped for cilantro and collard greens, garlic-parmesan bread and locally-harvested honey.
When I finished shopping I walked across Starkweather to Lucky's for a cappuccino and wonderfully rich egg & cheese sandwich on a croissant. Not quite as fabulous as an earlier brunch, but darn good.
Sitting in the sunshine it seemed like the perfect way to spend an hour or so. Afterwards I rode my bike back home, stopping at the West Side Market to buy cheese and a few more veggies.
Top | |

Gatsby, again
When I was at my daughter's house last weekend I pulled a battered copy of The Great Gatsby off the shelf. I needed something to read that wasn't the Pokemon Handbook. I'm one of a handful of Americans who went through high school and college without reading Gatsby, so I thought "better late than never." Plus it's short.
I finished it on the plane ride home and couldn't see how the book had become one of the most popular in American literature. I guess I was expecting some sort of revelation or life-changing experience.
Over the next couple of days, though, I kept thinking back on the story's ending in which the lives of the middle-class characters—including Gatsby—were ruined, while the wealthy ones carried on more or less undisturbed. The fact that I couldn't forget it made me realize that the book had more power than i'd given in credit for.
I decided to give it a second chance and started reading it again a couple of days ago. The second time around, I've noticed the quality of the writing, the well-crafted descriptions of life on West Egg, Long Island. We'll see if the ending leaves me more satisfied this time around.

An interestng sidelight: while I worked on reducing the scanned book cover to the small thumbnail image shown above I noticed that the eyes were unusual for more than their yellow irises. If you look closely you see human figures, one definitely female, the other more ambiguous.
Artist Francis Cugat painted the cover for the 1925 edition of the book, and it's been called the "most celebrated jacket art in twentieth century American literature." Charles Scribner III wrote an extensive explanation accompanied by many related sketches that show the development of the idea, called "Celestial Eyes."
Top | |