Mission accomplished, I hope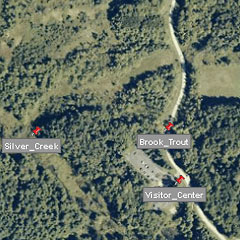 This afternoon I delivered the iPaq PDA to my client with a prototype of a location-based interpretive tour loaded on it.He was going to test it in the field later in the day, and I'm hoping the fact that there's no desperate email in my box is a good sign.
Starting on December 10th, I've spent many hours working on the project, learning a lot about mscape software along the way.
In theory, mscape sounds simple: import photos, sounds, and videos, grab a map from a site similar to Google Maps, and create "hot spots" that will trigger the sounds or videos when people enter the actual physical space. And, considering what's actually going on, mscape is relatively simple. It's the relatively that's been frustrating.
I learned the basics pretty quickly but soon ran into major roadblocks involving playing and controlling video. I could have lived without video, but my client considered video a deal-breaker. After several back-and-forth postings on the mscape tech support forum I got the answer I needed: the problem was that we had the wrong version of the Flash Player installed on the iPaq.
I removed the old version, installed the new one, and all the problems that had been driving me nuts went away. The better part of three frustrating days spent discovering this.
Learning can be painful at times. On the other hand, the idea—and hopefully the reality—of making location-based narratives is very exciting and fun. It's kind of magical to walk to a new area and hear a commentary about it on this little device in your hand. I've thought about walking around my neighborhood with my friend Bill, who knows everyone and everything, and recording his stories. With mscape I could put this in the form of a walking tour that anyone could take. Or, as examples on the mscape site show, you can create imaginary landscapes that people recreate in their own particular corner of the world. Pretty cool stuff.
I hope tomorrow I find out that it actually worked as planned.
Top | |