Nature, industry and architecture
Partly inspired by Stuart Pearl, partly because I wanted to get in a brisk 3-4 mile walk today, I headed across the Lorain-Carnegie Bridge after a stop at the West Side Market. The temperature was in the high 20s, but the wind across the bridge made it seem much colder. I pulled my red knit stocking cap on over my hoodie to give my forehead some protection from the biting wind.
I thought it would be warmer going back through the industrial Flats below the bridge, and it was.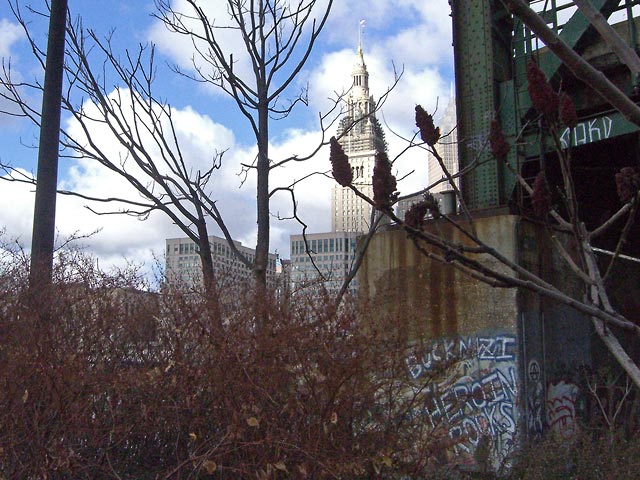 It also gave me a chance to snap shots of the bridges and buildings that are Cleveland's industrial heart. Here, the city's signature building, the Terminal Tower, is framed by the underbrush grown up around the abandoned Eagle Avenue Bridge. I love this combination of heavy industry, architecture, nature. and humanity. Pearl's influence made me see color in this setting that I hadn't noticed before. These images are very different than ones from a similar walk I took last February.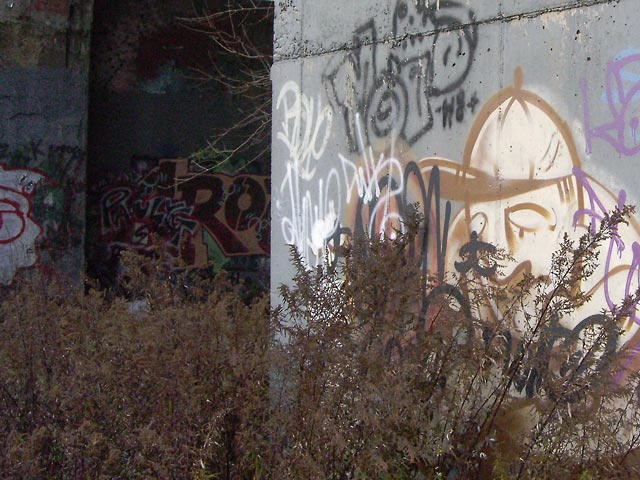 I'm a big fan of graffiti and have seen and photographed it in cities around the world. I think Cleveland artists are as good as those anywhere. This is not the best example of their artistry, but I love the humor in this figure on a bridge pier.

Add your comment by clicking below.
Top | |