Twitter cut my grass and bought me lunch
Well, not really, but close.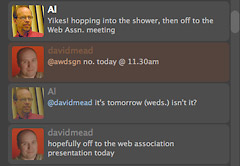 On Sunday I was motivated to cut the grass because a couple of people were Twittering about having done it, so I figured I might as well join the club.
Today I was working on things for school when a tweet popped up on Twitterific— someone was headed to the Web Association luncheon. Wait. I thought it was tomorrow, I messaged back... well, here's the exchange (read bottom to top).
If not for Twitter I'd have walked into an empty banquet room on Wednesday and be out the $25 I'd prepaid for lunch. Seeing as how Twitter is a free service, I certainly have gotten more than my money's worth since I signed up on April 1. Plus it's entertaining.
Hit me up at my Twitter location.
Top | |