David Byrne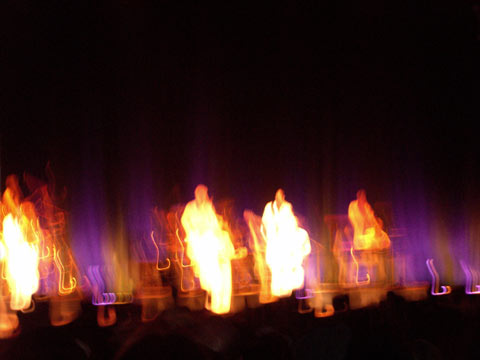 Last night's David Byrne concert at the Allen Theater lived up to my expectations and more. The photo here was taken when the whole theater was up and dancing to Still Waiting.
In true Byrne fashion, after this raucous number, the mood changed dramatically. He and his three dancers performed the next song while sitting in high-backed office chairs.
I'm completely in awe of Byrne's ability to write and perform music that sounds consistent yet absolutely unique. He has a signature sound that can take on almost any disguise, like a musical chameleon. You want thoughtful? No problem. Hot & sweaty? Sure thing. Sweet and melodic? Got it. As someone who works in a creative field I can tell you that the ability to not get stuck in a creative box is hard to come by.
I've been a fan of Byrne's since his earlier Talking Heads film Stop Making Sense, the best concert film I've ever seen, by a long shot. The sense of energy, inventiveness and humanity that came across in that movie are what I've come to associate with Byrne.
HIs latest collaboration with Brian Eno, Everything That Happens Will Happen Today continues in the same vein. Don't take my word for it, listen for yourself with this music player from Byrne's website.
Back to the concert for a moment. A big part of the fun of the evening was provided by the dancers and backup singers who pumped up the action in at least half of the songs. A couple of times Byrne retreated to the side of the stage and let them finish out the song on center stage.
After the set's final song and again after each of the two encores, Byrne and crew seemed genuinely happy basking in the adoration of a loud, wildly enthusiastic crowd. Maybe it's just part of their performance, but the lovefest seemed to be on both sides of the stage.
If David Byrne comes to your town, don't miss the opportunity to hear a great musician at the top of his game. This was a great concert.

Add your comment by clicking below.
Top | |