Amtrak info
A big part of my sabbatical plans is a trip to visit schools on the west coast and in the northwest via Amtrak. I spent a fair amount of time on the Amtrak website but was still confused about what I could and could not do with a 30-day rail pass. In the past I've found that talking with a real person at the station has been very helpful, so on this rainy morning headed to the Amtrak station in downtown Cleveland.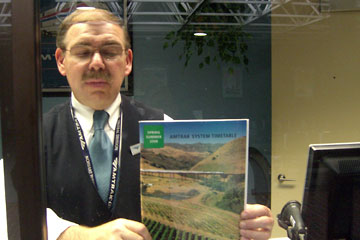 Ticket agent Bob Wells cleared up all my questions in about ten minutes. He explained the mysteries of ticket pricing, and assured me that I would be able to get off and on the train as many times as I wanted—an important point since my schedule is still a bit fuzzy.
He also gave me the magazine-sized national schedule book that will let me plan my journey. Although I love what you can do with online maps, holding the paper schedule makes me feel like I did when I was a kid looking at a Sears Roebuck catalog: Wow! I want that, and that, and that.
I've roughed out an itinerary and sent emails to my friends in California and Oregon, where I plan to spend much of my time. Add to this the 98 responses I've gotten to my preliminary survey, and it feels like things are starting to come together.

Have you traveled on Amtrak recently? What did you think? Add your comment by clicking below.
Top | |

Rainy day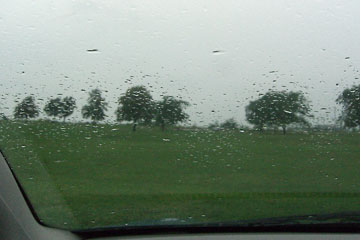 It rained all day today, never hard but constant. After a month of biking to Edgewater Park I broke down and took the car instead, rationalizing it by loading our recycling in the back and dropping it off in the Edgewater collection dumpster.
I got pretty damp as I ran five laps, but since it was warm it wasn't bad at all. Just as I was leaving the sun almost broke through the overcast, forming a bright spot in the clouds.
Top | |