Website progress.
At the start of the day our Portfolio Preparation class website was a mess. Virtually nothing was working, and it looked kind of, well, less than dynamic. Fortunately Cameron and Garrett were able to improve things by noon, and later in the day made changes and additions that pumped up the visuals noticeably.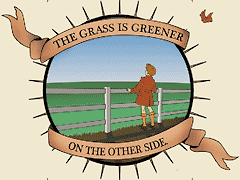 The Flash intro—with its chirping birdie—is working, adding a bit of fun and motion to the "Grass is Greener Here" theme. (Click the image at right to see it.)
Bit by bit we're adding more info to the site. Individual student profiles should be up soon, followed by the video, downloadable resumes, details about the class and the show itself, and a map with directions. If you'd like to get updates about the show, sign up here.
Top | |