Spring planting
Today, a Sunday, followed the usual pattern for the most part. But, inspired by the sunny & warmer weather, I planted pepper seeds for the garden. Last year I tried a mixture of multi-colored peppers which looked pretty but didn't have much flavor. This year I'm going with a hybrid Burpee red pepper that I hope is better in that department.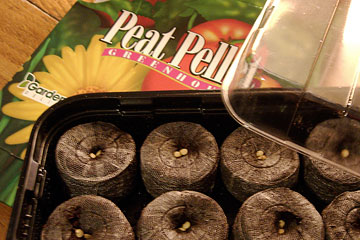 I bought a Gardener's Delight Peat Pellet Greenhouse for $2 at Marc's and—following the instructions to the letter—soaked the pellets of peat moss in warm water, then put two seeds in each. I'm supposed to let them grow for a few weeks, then pull out the weaker of each pair.
I have a tough time being ruthless like that, so in the past I've tried to untangle the roots and plant both, not always successfully.
I only used half the peat pellets, leaving me ten more. Think I'll buy eggplant seeds. If I grow my own eggplant I can make more baba ganoosh. When you have to pay $1-1.50 per eggplant it's actually cheaper to buy Nate's baba than to make your own. And you know it will be good, too.
Top | |