Sights, smells, sounds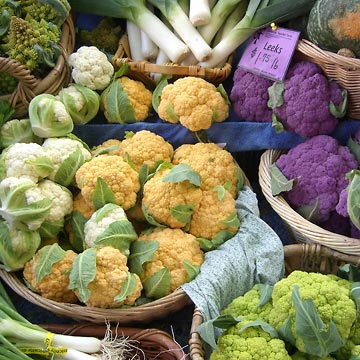 How beautiful is this?
As I was walking towards the Portland Art Museum I saw a "Farmer's Market" sign and veered in that direction. I walked past the first couple of stands and the earthy smells of vegetables and herbs enveloped me, making me long to be in my own garden. My own peppers, tomatoes and eggplants should be looking pretty good, I hope.
These gorgeous cauliflowers are varieties I've never seen before, but sure would like to grow. I'm going to have to start looking at seed catalogs instead of just buying what I can find at Footes.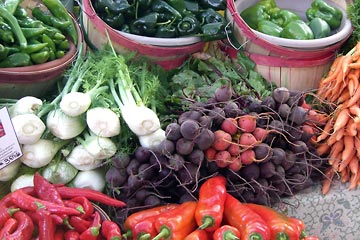 These peppers, beets, and carrots are more familiar, but still look so great I wanted to buy some of each. I wisely restrained myself and just picked up a pint of strawberries for dessert tonight.
I also snacked on samples of cheddar cheese, cilantro pesto, three kinds of apples, apple cider, organic naturally flavored pear soda (much tastier than you'd expect), grapes, baba ganoosh, and more. Pretty much let me skip lunch.
---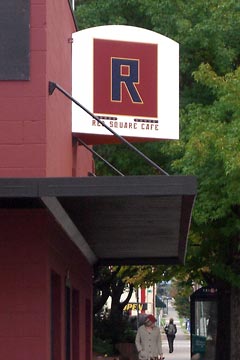 Started my day today as I did the previous two, by walking a few blocks up Belmont to the Red Square cafe.
I doubt that you can walk more than six blocks in any direction anywhere in Portland without hitting a coffee shop. I briefly considered heading the other way on Belmont to try a new place, but I like the guy at Red Square and already was feeling like a regular there.
I took the coffee back to Judy's where I could sit at the table and read today's paper. This meant, of course, that I missed a chance to run into Mr.Truth TV again. On my first visit to the Red Square he explained that no airliners ever crashed into the World Trade Center. It was all a government hoax that used holographic projections of planes.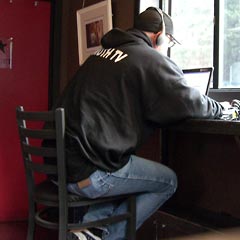 I was sitting behind him drinking my coffee when he recorded GOOD THINGS ARE COMING STOCK MARKET RISES 600 POINTS! PROOF THAT THE US GOVERNMENT, CONGRESS, SENATE, GOVERNORS ARE LOSING NOT WINNING! THEY ARE GOING DOWN SOON!
Take a look at GOOD THINGS, ETC. You'll see why the Red Square Cafe is an interesting place to have coffee.
---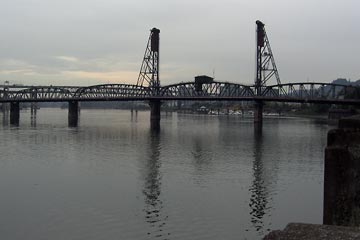 Late in the afternoon I walked along the Willamette River in downtown Portland. Wider and straighter than the Cuyahoga, it still reminded me of Cleveland.
Day after day I've been mentally comparing our two cities and have come to a few conclusions about why Portland can with a straight face call itself "The City That Works" and Cleveland doesn't dare. Some make me sad, some make me optimistic. But as usual, it's too late and I'm too tired to get into this now. Another day, perhaps.

Add your comment by clicking below.
Top | |