What means what?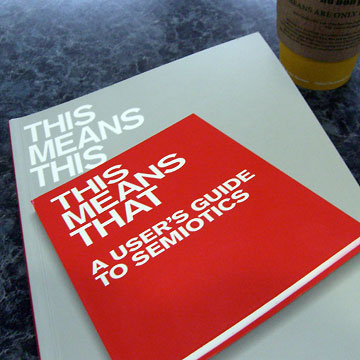 Semiotics—like Postmodernism—is a topic I've long felt that I should understand but didn't. But sitting at a table in the Philadelphia airport last Sunday that started to change. I'm chipping away at my near-ignorance on the topic thanks to the book This Means This, This Means That: A User's Guide to Semiotics
by Sean Hall.
It's a great book if you're interested in semiotics. It's also a great book if you want to see how writing and design can be used to clarify a subject. Semiotics theory can be tough sledding if you're like me, easily overwhelmed by complex statements.
This Means This brilliantly breaks the idea into 76 chunks, and shows and explains each on two pages, no more, no less. A key piece of the formula that makes it work is that each section starts with an illustrated question that you're asked to think about before turning the page to read the explanation.
(continued tomorrow...)
Top | |