My reward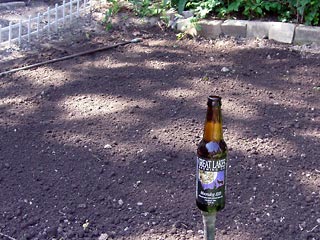 After all the effort that went into school last week and the Portfolio Show yesterday and today, my main goal when I got home about 2:30 pm was to change clothes, go out in the garden and dig about 250 pounds of cow manure and peat moss into the soil.
My plan was to work up a sweat, drink a cold Great Lakes beer and sit in the sun. The plan worked perfectly.
It took only a couple of hours, and I'd say we're in pretty good shape to plant tomatoes and peppers. We pushed the garden edges out a couple more feet in two directions, so there's room for more plants than last year. I'm going to try eggplant this year in hopes of having my own supply to make baba ganoosh.
Top | |