Picnic + slaw dog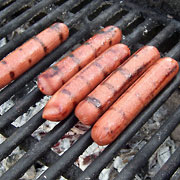 We decided to celebrate Joanne's last day of work by having a little picnic at Edgewater Park. It was a gorgeous day, sunny and breezy, which made it pleasantly cool in the shade where we found a picnic table. I used twigs from the back yard and a few wood scraps from the basement to make a fire in the grill to cook hot dogs.
I made my own slaw dog, unfortunately without chili. It's nestled in a substantial bun from Christopher's Bakery at the West Side Market and is covered with coleslaw from Irene Dever's.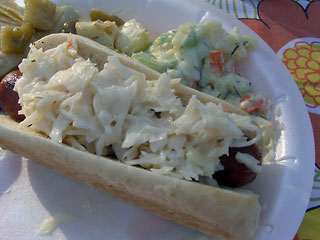 Pretty good, if I do say so myself.
In my personal hierarchy of slaw dogs I'd put it above Steve's (better bun and slaw) but not quite up to Hot Dog Inn standards. Of course the absence of chili was a major handicap.
On the plate you also see homemade potato salad with fresh dill from David's garden, and artichoke salad from Dever's.
Afterwards we moved to a sunny table near the water and soaked up a few rays. The water was gorgeously blue and people of all ages and races were wandering around the park. A perfect day for it.
An added bonus: the car key that I lost yesterday after running/exercising in the park had been turned in to the folks at the refreshment stand by the pier. I never thought to ask there yesterday. That saves me a trip to the car dealer's plus about $70.
Top | |