Andres Institute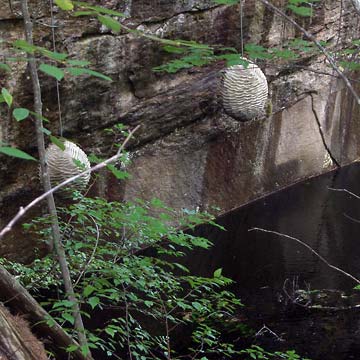 A wonderful gem of an art center is hidden in plain sight off a highway near Brookline, New Hampshire. We've visited the Andres Institute of Art several times, always marveling at the riches hidden in its wooded hillsides and valleys.
Picture a lovely small park, free and open to the public, in a hilly, wooded section of New Hampshire. Now add to the picture dozens of outdoor sculptures, each created specifically in and/or for its location by sculptors from around the world.
Each year the Institute invites a different group of sculptors two spend two weeks in September creating their site-specific work. Today, in fact, was the first day of the 2008 symposium.
The description on a plaque near this sculpture reads:
Memories by Jaya Schuerch, Switzerland/USA, 2005
Memories can hang over us, determining how we live, or we can let them drop; dissolving and resolving, transforming and reforming.

Have you visited Andres Institute? Something similar? Add your comment by clicking below.
Top | |