One laptop + one child = Change the world?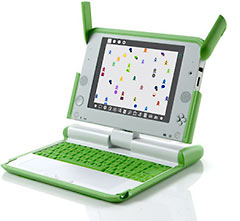 About this time last year (Nov. 21st, to be exact) I ordered a laptop for my grandson. It would be a Christmas present. It wasn't an ordinary laptop, it was one of the cute little green and white numbers you see here.
And I didn't exactly buy it, I made a donation to the One Laptop Per Child Project (OLPC). My donation of $400 got me one laptop for Xavier and paid for another to be given to a child in Afghanistan, Cambodia, Haiti, Mongolia or Rwanda. It seemed like a good idea all around.
It's hard to quarrel with OLPC's mission:
to provide a means for learning, self-expression, and exploration to the nearly two billion children of the developing world with little or no access to education...By giving children their very own connected XO laptop, we are giving them a window to the outside world, access to vast amounts of information, a way to connect with each other, and a springboard into their future.
I still support the mission, which is why I'm writing this tonight. I think OLPC's current "Change the World" campaign is well-done and thought-provoking.
At right you see various equations on how to change the world, created by people like you and me.
Click at the bottom right where it says "Create your own equation" and decide for yourself what you'd like to add to or subtract from the world to make it a better place.
So, are laptops the answer? I don't know, but I think they can be part of the answer. With the world changing as fast as it is, education and connectedness seem essential. If you share this belief please check out the OLPC website and support them if you can.
In all honestly, though, as a present for my 11-year-old grandson, the XO laptop probably wasn't the answer. First problem is it (deliberately) looks toy-like—good for a younger kid, not so good for an older one. Second, although the software allows you to do the essentials and more (write, draw, take pictures, record audio and video, and do simple programming), it probably seems kind of primitive to a kid used to GameBoys, Xboxes, and PlayStations.

Add your comment by clicking below.
Top | |