Looking ahead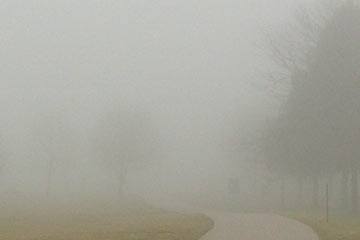 Walking along my usual path at Edgewater Park at the end of December in 2006, this is what I saw.
It felt exactly like what I saw ahead for 2007. Nothing clear, nothing defined. Not bad, not good, just indistinct.
2007 turned out to be a pretty good year with ups and downs, births and deaths, successes and failures. I went into it with no expectations, maybe a good thing.
---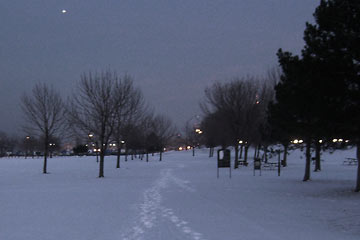 At dusk a few days ago on the same path I was struck by the bright path ahead marked by footsteps already in the snow. It seemed hopeful, showing me a way I could go if I wanted to follow it, but of course leaving the option for me to create a new path wherever I wanted.
And like last year's foggy view felt right, this year's bright path forward feels right too. I'm not sure where it leads, but it seems to say keep moving.
If things work out for my sabbatical—which would start in the fall of 2008—I'll be doing a lot of traveling.
I've now been teaching fulltime at Tri-C for eight years, and I have to say I'm feeling a bit burned out. Nothing serious, but a break sure would be good.
Top | |