Slaw dog smackdown!
I didn't plan it, but today's lunch and late-night dinner turned into a chili dog (with slaw) challenge.
I went to work twenty minutes early today so I had time to hit Charlie's Dog House Diner, across Pleasant Valley Road from Tri-C, for lunch. I ordered a Diner Dog, a chili dog with slaw. Later, on the way home from work at about 9:30 pm I stopped at Cleveland's Old Fashion Hot Dogs (formerly Hot Dog Inn) for a Chili Dog with Slaw.
Here are the contestants:
The suburban dog, bright and shiny in the afternoon sun, has lots of crispy slaw and not much chili. The dog itself was crisp and tasty, a credit to its Vienna All Beef pedigree. The slaw was mostly cabbage, not much sauce, and tasted, well, healthy.
Overall, not bad, but on the bland side. The ingredients seemed very fresh. A chocolate shake was made on the spot from real ice cream, not squirted out of a machine.
Cost: $2.95 for the Diner Dog.
---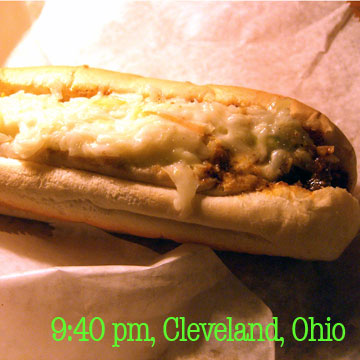 And here, under the warm glow of my kitchen table light, is the classic Old Fashion Hot Dog Chili Dog with Slaw. The slaw was creamier and the chili spicier than its Parma counterpart, although I'd have liked a more generous scoop of chili. The dog itself wasn't as good, probably related to the fact that the "All-Beef" sign isn't in the window anymore.
Cost: $2 for a Chili Dog with Slaw.
You get a boatload of neighborhood ambiance along with your chili dog. Tonight the waitress was promising some unnamed kid an "ol' fashioned hillbilly granny ass-whuppin" while the guy in the winter coat at the counter methodically tore the newspaper into pieces.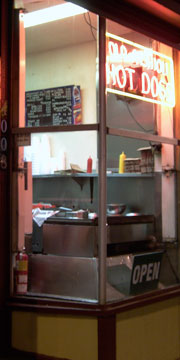 The winner, and still champion: Old Fashion Hot Dogs.
Let's face it, this isn't health food. It's not good for you, so it better be tasty. The more flavorful chili and slaw on the OFHD dog made the difference.
Times have changed, though. The prices are higher, "all-beef" is history, and the metal shutters roll down at 2 or 3 a.m. No more 24-hour hot dog outpost on the corner of West 41st and Lorain.
The last time I wrote about this in 2001 it was $1.45 for an all-beef dog.
Top | |