Food stuff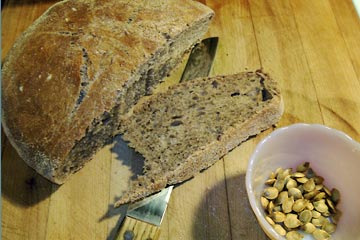 The best bread you ever made is also the easiest. It requires almost no baking experience—if you can measure 3 cups of flour and a few other ingredients, you're well on your way to success.
The secret to this success is a recipe for no-knead bread that first appeared in the New York Times. Be sure to watch the video on the NYT site, or this one from Breadtopia to get a good sense of how the whole process works. Breadtopia also lists several variations, like sourdough, cranberry-pecan, etc.
If you don't plan ahead, the 12-18 hours of rising time may seem unwieldly, so here's a quicker variation that can be done in an afternoon.
I've made this bread three times, twice using the "quick" recipe, and most recently using the original 18-hour version. I first made a whole-wheat loaf that was kind of dry and tasteless, although it had a beautiful crust and texture. My next loaf was all white bread flour, and that was pretty darn good. But best of all was today's loaf, made with one cup whole wheat and two cups of bread flour.
If you don't have a cast iron Dutch oven or fancy French covered bread baking pot, no problem. I used a round oven-proof casserole dish, covered it with a pizza pan and it worked just fine.
Oh, and another tasty discovery: the small bowl of seeds in the picture above were from an acorn squash I baked for dinner. I scooped out the seeds, rinsed and dried them, sprinkled them with a little olive oil and seasoned salt and roasted them in the oven for about 15 minutes. Crunchy, tasty, and good for you. I'll bet your kids will love 'em, too.
Coming soon: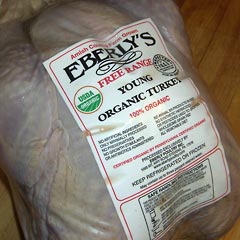 Will we notice a difference? I sure did when I looked at the price sticker.
I'll let you know after dinner on Thursday. (The turkey verdict here)

Add your comment by clicking below.
Top | |