Welcome to...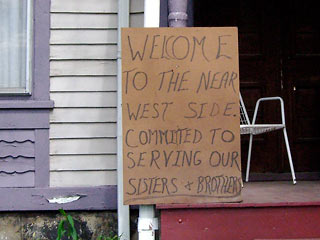 They call it "Ohio City." We call it "The Near West Side." This used to get me steamed, especially on the day of the Ohio City Home Tour, which happened to be today.
The sign on my neighbor's house is more restrained than the ones I silk-screened twenty years ago and asked neighbors to put in their windows. My sign said "Cleveland is an Ohio City. This is a neighborhood" and had a big red slash over a dollar sign. Not very welcoming.
The dispute over the character and direction of the neighborhood can broadly be described in terms of economic "haves" vs. "have nots" but of course it's more complicated than that. Although I've always disliked the marketing emphasis that led to using the name Ohio City—more sexy than the lowly geographic Near West Side—I have to say that I'm not opposed to some of the changes that have come with it.
As more middle/higher income people have moved in, some problems often associated with poverty have diminished. While crime is still a part of urban life, the reports of murders within a few blocks of our house have become rare, not routine as they were twenty years ago. Cars racing down the street, sometimes ending up smashed against a pole by their joy-riding drivers, aren't a regular thing anymore. New houses being built on vacant lots are a whole lot better than the six or eight on Clinton that were burned by arsonists, one by one. Two of the houses we thought about buying met that fate.
And despite the half-million dollar condos on the next block, we haven't lost our soul completely. The neighborhood is still home to many social service agencies, and the free meals programs that I used to be part of still carry on, serving many more than when I was cooking big pots of beans and franks and taking them to St. Pat's on Wednesdays. I'm not nearly as enthused about it as before, but I'm happy that someone is. It's what we do on the Near West Side.
Top | |