Milwaukee Art Museum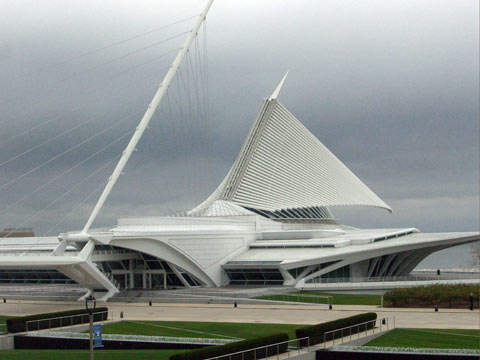 The new Quadracci Pavilion designed by Spanish architect Santiago Calatrava for the Milwaukee Museum of Art is hard to describe using words other than "spectacular" or "striking."
It manages to look like a bird, spaceship and sailing vessel all at the same time. Perched on the lake shore it seems ready to take off.
I spent several hours at the museum today and came away very impressed with the breadth of the art in their collection.
The Act/React Interactive Art show (Oct. 4, 2008–Jan. 11, 2009) is one of the most enjoyable displays of computer-based interactive work I've seen anywhere.
The rest of the collection, especially the contemporary work and the display of folk/outsider artwork, had both recognizable "signature" pieces and lesser-known but equally good ones. I wish I'd had more time to spend in the museum—two hours wasn't nearly enough.
[writing this as the Lake Shore Limited takes me home to Cleveland; only six more hours.]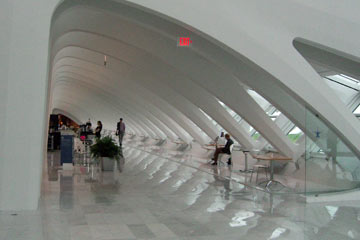 The main public areas inside Calatrava's swoopy building are less successful than the exterior, in my view. Inside it's very bright and white, even on a gray day, with more the feel of an airport terminal than an art museum.
If the space station in 2001, A Space Odyssey mated with the ship from Alien, this would be their love-child. To me it was cold and flamboyant.
---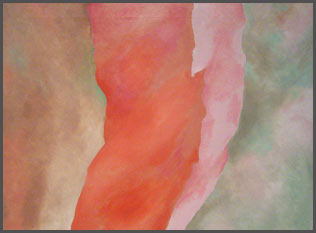 As I mentioned when I visited the Georgia O'Keefe Museum in Santa Fe, if I'd have seen her work when I was taking painting at the University of Dayton in 1968, I might be a painter today. Probably not, but work like this, It Was Red and Pink would have gotten me enthused.
MIAD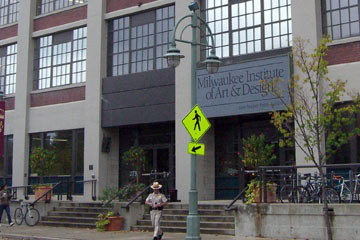 Other than time at the Art Museum, I spent the day at MIAD, the Milwaukee Institute of Art and Design.
A former grad school classmate from Kent State, Dale Shidler, is head of the Communication Design program. He arranged for me to talk with MIAD teachers and students, showed me around Milwaukee and gave me a room for the night, making my visit both enjoyable and productive.
MIAD's cavernous building has an "art school" feel to it, a little funky and rough around the edges. It's similar to what I experienced at Herron Sch
Downtown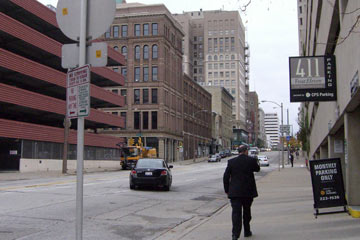 Driving around downtown Milwaukee there seemed to be a lot going on: offices and condos being built, hotels, corporate headquarters, parks and public spaces. It was making me feel bad that Cleveland isn't showing nearly as much growth.
As I walked from MIAD to the Art Museum today, though, I saw a very familiar sight: deserted downtown streets. It looks like Milwaukee needs people to enjoy their downtown attractions in the same way Cleveland does.
Cities aren't buildings. No matter how many museums and entertainment venues there are, without people on the street, any downtown feels dead.
If you've been to Chicago or Portland you've seen the difference: people are out walking, shopping, strolling, simply using and enjoying their city.
I have a theory—with little evidence to back it—that the big difference is between cities which never lost their downtown business and social life and those which lost it and are trying to recreate it. Building the buildings is the easy part. Teaching people to value city life is much harder.

Add your comment by clicking below.
Top | |