An Election Day to remember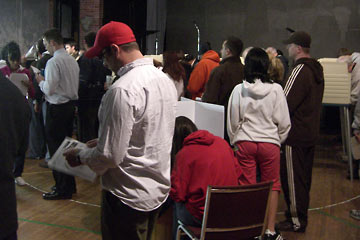 We got up at 6 a.m. to be at the polls when they opened at 6:30. The Foursquare Gospel Church was packed. Friends, acquaintances and complete strangers stood in line in front, behind, and alongside. It took about an hour, but I felt like we'd started the day with an important piece of civic involvement.
For more pictures of people all over the U.S. voting, visit Polling Place Photo Project.
---
I'm unreasonably proud of this button that I wore from 9:30 a.m. until midnight. I spent most of the day knocking on doors and talking with people about voting. Not even much about voting for Obama, though nearly everyone I spoke with did. Mostly what I said was "Have you had a chance to vote today?" or "Did you vote today?"
More on my canvassing experience tomorrow... I'm too tired now. [See 11/5 update]
Long time coming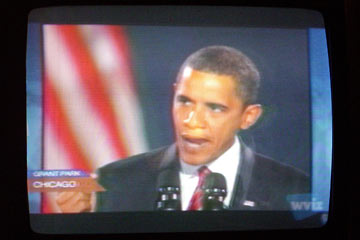 I'm not running for office, so I can say this: it's been a long time since I've been able to really, truly say I'm proud to be an American.
We've suffered through eight years of a government that in my view disrespected and distorted what America stands for, and tonight between 11 p.m. and midnight I could finally let myself believe that a change has come.
At 11 p.m. Senator McCain gave a strong and generous speech conceding the election and asking for Americans to unite behind their new president.
At midnight Barack Obama gave a sober and hopeful acceptance speech that promised more work and more trials ahead, but as Bruce Springsteen put it the other night, it appealed to our "better angels." That we can work together to solve our country's problems and influence the world for good.
Now I can go to bed without that sick feeling in pit of my stomach that I remember so clearly from 2004.

Add your comment by clicking below.
Top | |