Farmers market at the Square
Today I went to Cleveland's longest-running (since 1995) farmers market, the North Union Market at Shaker Square. I needed to buy meat, since I haven't found anyone at the West Side Market who carries grass-fed beef or pork.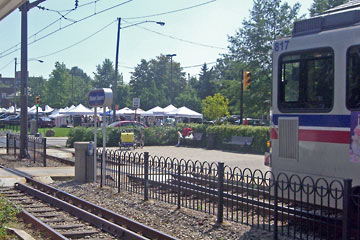 Shaker Square is easy to get to by public transit. Following the Google Maps suggested route, I took the Red LIne to East 34th and transferred to the Green Line that stopped across the street from the farmers market.
All the tents visible in the picture are vendors selling arts, crafts and prepared food. Across the tracks to the left is an equally big collection of tents selling vegetables, fruits, honey, and meat.
I couldn't find anyone selling beef, so I got ground veal instead (eventually I saw the beef vendor, but too late). I passed on buffalo, but picked up a half-dozen pork chops. All the meats are from humanely raised, grass-fed animals. As you might expect, the prices are quite a bit higher than feedlot raised meat, but this approach is better for the animals and the humans.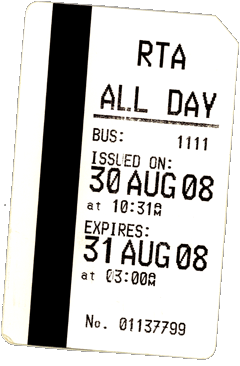 All in all, a successful trip. It took me about 45 minutes to get there, from the moment I left my house until the train pulled into the Shaker Square station.
I bought a $4 all-day pass, a great deal (only half a buck more than two individual tickets). I took a different route back, riding the train to Tower City and taking a bus down Detroit Ave. to my street. When I got home I felt like I should go somewhere else, since the pass didn't expire until 3 a.m.
In fact, as I write this I still have time to hop on a bus and go somewhere. (Unfortunately I have time but no interest.)
Sadly, not many Clevelanders take advantage of the transit system. Judging from appearances (risky, I know) I'd estimate 50-75% of the people were riding the bus and train because they don't have access to a car. Not too many folks who looked middle-class like me.

Do you ride public transportation by choice or necessity? Shop at farmers markets? Add your comment by clicking below.
Top | |