Remembering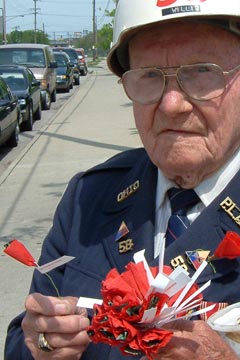 Today is an official holiday in the United States now known as Veterans' Day. In other parts of the world, it's still called Armistice Day. The 11th of November, 1918 was when World War I—the "war to end all wars"—officially ended on the Western Front in Europe.
Poppies are associated with Armistice Day because of the poem In Flanders Fields, written by John McCrae after he'd seen his friend killed. It begins:
In Flanders fields the poppies blow
Between the crosses, row on row,
That mark our place...
Although as a general rule I don't go for symbols of patriotism, when I see an elderly veteran selling poppies I always buy one. The poppies—and the men themselves—represent a tenuous connection we still maintain with a piece of history that should never be forgotten. Twenty million died in horribly bloody battles often fought to gain or hold small amounts of territory. And of course, sadly their deaths did not end all wars.
Harvey MIlk
Today is also the anniversary of the assassination of San Francisco activist/politician Harvey Milk, the first openly gay official elected in California. In 2008 we're used to gay entertainers, athletes, friends, neighbors and, yes, politicians, but it's important to remember that it wasn't always that way. Milk was elected in 1977 and killed after less than a year in office.
Given Barack Obama's successful "Hope" campaign, it's chilling to listen to the message Milk recorded to be played in the event he was assassinated. He ends with the words "You gotta give 'em hope."
This story on NPR gives more background on Milk's life—to hear his actual words, click on the link Listen: 'Gotta Give 'Em Hope a few paragraphs down on the left.

Kristallnacht
I'd hoped to illustrate this with a letterpress commemorative card I printed while in grad school, but couldn't find a copy. Now I'm a day or two late, but don't want to let the anniversary of Kristallnacht (Night of Broken Glass) pass without mention. Seventy years ago on November 9-10, the German Nazi party declared open season on Jews. We all know where this led in later years.
Hundreds of synagogues and thousands of businesses were vandalized, looted and burned. The police stood by and watched, and the fire department's job was only to keep fires from spreading to non-Jewish buildings.
Why remember?
No matter how dramatic the event, our memory fades as time passes. An event like the May 4th killings at Kent State that is permanently burned into my brain is just another question on a history quiz to students today. If we don't work as a society to keep memories alive our grandchildren may have to learn the same hard lessons over and over again.
Remembering Sept. 11 (2007)
Forgetting to Remember (2007)
Memorials (2007)

Add your comment by clicking below.
Top | |