Life & death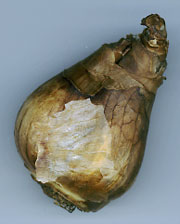 We went to a "viewing" today of a friend who'd died shockingly soon after he was diagnosed with cancer at age 68. Lots of people showed up, a tribute to his many and varied circles of friends and associates.
The family had placed a basket of daffodil bulbs next to the guest book and asked us each to take one and plant it in memory of Bill. This small sign of the continuation of life is a way to help us keep things in perspective.
Later in the evening I went to a local bar with friend who'd miraculously escaped being shot at close range. We didn't talk about it, but this could easily have been another viewing and funeral instead of beer and fries.
The past month has been tough in terms of loss and sadness. The only good thing about death is that it makes you appreciate what you have. Our lives, mundane as they seem at times, are precious—all too short, subject to change at any moment. Take a minute to tell those you care about how important they are to you.
Top | |