Cuyahoga Valley: Ohio & Erie Canal Reservation
I had to go back to Foote's today to buy more pepper plants since he ones I started from seed are doing so poorly. I got three big healthy plants: one yellow, one "blush" that can be picked when it's yellow, light red, or deep red, and one mild jalapeno for making fresh salsa.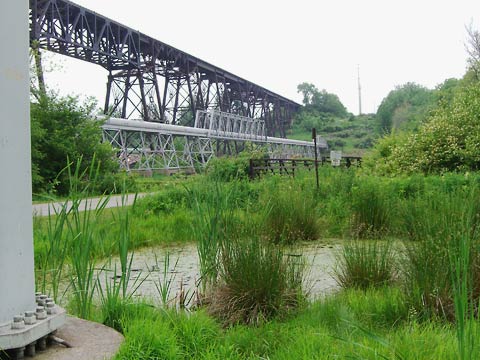 On the way home I stopped at the Ohio & Erie Canal Reservation of the Metroparks, part of the Towpath Trail that runs through the Cuyahoga River Valley.
I just love this place because it offers such dramatic contrasts between nature and industry. In the foreground is a protected Wildlife Refuge, and in the background a railroad bridge towers over a big gas pipeline. The gray tower at left supports high-tension power lines that cross the valley at this same polnt.
---
At the base of the railroad trestle gas pipeline warning posts sprout among the wildflowers in bloom.
These sorts of man vs. nature sights are everywhere in this five mile stretch of canal, river, woods and fields that ends at the huge Alcoa plant on Harvard Rd.
---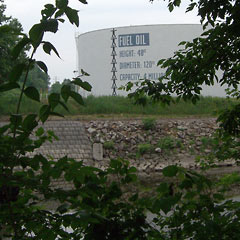 Heading north one loop of the trail hugs the river and you can look across at a four-million gallon oil storage tank. Its 48-foot height is shown by the eight human icons painted on the side. There are more than a dozen of these tanks clustered near the river, surrounded by low earth walls that are supposed to trap the oil in case of leaks. Let's hope we never find out if they work as planned.
---
You can see how the park fits into the industrial landscape by clicking and dragging the Google map below. The green markers show where the pictures were taken.
Top | |