New! (so?)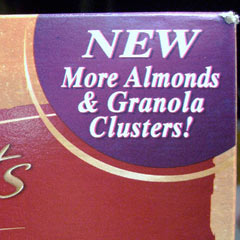 It's standard procedure for manufacturers to slap a colorful banner across the top corner of a package to announce a new formula (New! Whiter whites!), a new flavor (New! Cinnamon Apple Crunch!), or in the case of the Post cereal at right, a new recipe (More Almonds & Granola Clusters!).
Even though we know that there may be only one more almond per box, or that we'll never be able to tell for sure if the whites are indeed whiter, the word "new" always attracts our attention. It's not quite as powerful as "free", but still does the job.
As humans I guess we just can't resist the promise of novelty or the hope that this box gives us a little better value for our money.
But there's another version of this marketing tactic that I have a hard time understanding: the one that says "It's the same stuff as before, but it looks different, so buy it." I've seen this on a variety of packages, but these Black Swan wine labels take it further than most:
First they tell you that the NEW LOOK! is coming soon, then they remind you it's here (and by the way, it tastes the same). So apparently we're supposed to buy the wine because we like the label better. And guess what? It's probably true. There's a trend in the wine industry towards "critter labels", meaning those which prominently feature animals (kangaroos, bulls, and yes, swans). An oft-quoted ACNielsen report (see link above) found that 77% of new table wine brands introduced in recent years featured animals on the labels.
So the discrete black swan swimming serenely at the top of the old label had to go, to make room for the big swan's curved neck that dominates the new label. And if you're like a lot of people who don't spend lots of money on wine, this change will make you more likely to grab that bottle of Black Swan off the supermarket shelf. It's new! (well, it looks new anyway).
Top | |