Scene in a restaurant
Just a couple of people enjoying breakfast at a local restaurant. What makes it memorable is that a minute or two before, a guy approached the table, had a brief conversation with the woman, wrote something on a piece of paper, and then used his cellphone to take a picture of her tatoo.
I'm sure he admired her tatoo (he had a few himself) and asked who'd done it. Then he probably needed the picture so that he could get something similar.
It's hard for me to imagine an interaction even remotely like this happening when I was the age of the couple in the photo, yet it's probably not all that unusual now. Times change.
Good breakfast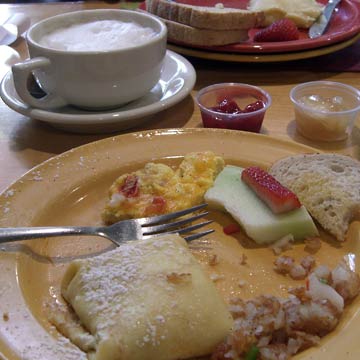 It's not as beautiful—or as rich—as the breakfast we had at Lucky's a month ago, but it was darn good.
Today we went to the West Side Market Cafe for brunch. We split an order of blintzes (lower left) and a tomato and cheddar frittata (above the fork).
Both were quite tasty, although the topping for the blintzes seemed to be cherry and apple pie filling. Good-quality fruit preserves would be better, and fresh fruit probably best of all.
The hashbrowns that come with every order (even the blintzes) were outstanding. They were crispy, not greasy, with little bits of onion and pepper mixed in. I make some pretty mean hash browns myself, and I have to admit these were almost as good.
And check out the big mug of cappuchino. Very nice, and only $2.50. I think next time I'll try a double shot of espresso, but I'm not complaining.
Prices were low/moderate, and the portions reasonable. I'm glad they don't go for quantity over quality, as too many restaurants do. I always end up cleaning my plate, no matter how much food they put on it. Often I regret it afterwards when I feel overstuffed. This was just perfect.
We used to have breakfast occasionally at the old West Side Market Cafe when it really fit the "greasy spoon" description. The new version is a big step up in quality, menu choices, and overall ambiance. They've got some great lunch specials too, and now are staying open late for dinner. The new owners are friends of friends who seem to be really decent people. Hope they enjoy great success.