The view from 32, again
After two weeks of spectacular views of the Alps in Switzerland interspersed with charming old towns and the occasional big European city (Stuttgart, Amsterdam), I've been fairly oblivious to what's around me here on Cleveland's Near West Side. But today, walking home from a friend's house, I glanced down West 32nd St. and caught a glimpse of the razor sharp line between the dark blue of Lake Erie and the golden sky above. The view pulled me like a magnet to the end of the street.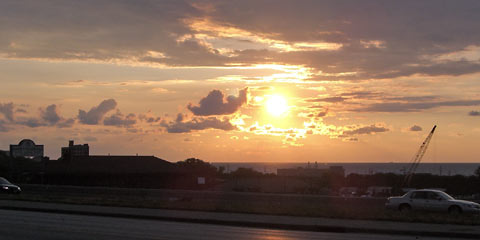 Even cluttered as it is with cranes and warehouses and cars zooming by on the Shoreway, it's a beautiful sight.
This picture doesn't come anywhere close to communicating the sense of openness that you get when you're there looking out toward the horizon.
When I went to college in Dayton, Ohio I remember feeling a bit claustrophobic because there wasn't an open horizon like this anywhere. Since moving to 32nd St. I've gotten even more attached to the lake and its beauty.
Top | |