Tell it like it is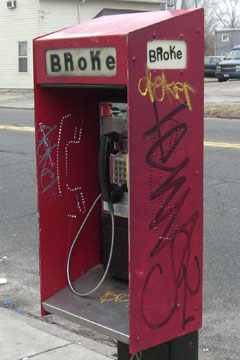 This bit of public-service graffiti at W. 20th and Abbey made me smile. It's possible that the phone really does work—I should have checked, but the revised version of the word "phone" is probably correct as often as it's not.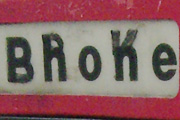 Whoever made the addition/change did a pretty good job of keeping the typographic look consistent, especially the sign on the front.
The one on the side is starting to look a little more like the Cyrillic alphabet.
Top | |

Great breakfast... again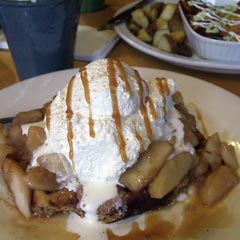 OK, I'm ready to declare a winner. The best breakfast/brunch in Cleveland is at Lucky's Cafe in Tremont. Other places are good, but Lucky's is great.
I've talked about Lucky's before, and I had the waffles before, so now I know that my previous experiences were no flukes. It's always that good.
This time the waffles were flavored with ginger, topped with warm apples—not sticky-sweet canned apple filling—and buried under a mound of real whipped cream, not the foamy stuff from a can. Plus cinnamon and caramel sauces drizzled on top. Wow.
Lucky's brunch menu is limited to about eight or so items, each priced around $9-10. You might feel a little restricted in your choices, but I'd wager that anything you get is going to be better than everything on other menus. You trade quantity (of choice) for quality.
Don't worry, though, about the quantity of food that you get. Every time I've had brunch at Lucky's around 10-11 a.m. I haven't even thought of eating again until 5 or 6 pm. On several of occasions we've brought food home. This time it was the home fries that came with Joanne's breakfast burritos.
If you're on a limited budget, skip a couple of the $1.99 3 egg breakfast specials elsewhere and go to Lucky's when you've got ten bucks to spend. It's worth it. The food is enough on its own, but besides that you'll enjoy it in an attractive, well-lit room with attentive, friendly staff.
Top | |