Pancakes, parks, and leaving Portland
We started my last day in Portland with breakfast at Zell's, a comfortable neighborhood restaurant. Since I love breakfast, many of the choices on the menu looked good, but I decided on something that I've never had before, a German pancake with sliced pears and pear-ginger sauce.
The pancake is kind of a cross between a crepe and a very light omelet, crispy and eggy. The pear-ginger sauce was more subtle than I expected, but a liberal dose of maple syrup fixed that right up. After taking this picture I ordered a side of bacon, so I left the restaurant feeling the need to walk off a few (hundred) calories.
---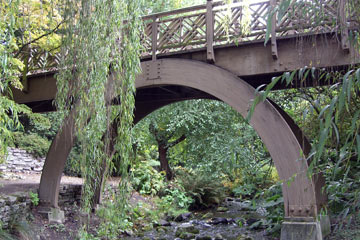 Our first stop was the Rhododendron Garden, another favorite of Judy's. Smaller than the Japanese Garden, it still had something of an Oriental feel to it. This bridge reminded me of the Moon Bridge at the Japanese Garden in San Francisco's Golden Gate Park, except that the moon part here supports the walking surface rather than actually being that surface.
The garden has several ponds inhabited by ducks and geese of all kinds, walking trails, and a beautiful waterfall.
From here we went to Forest Park and walked in the woods for a while, and stopped for ice cream at Cool Moon before heading towards Union Station.
---
If you wonder why anyone would spend days going from Portland to Chicago on the train rather than hours in a plane, here's why.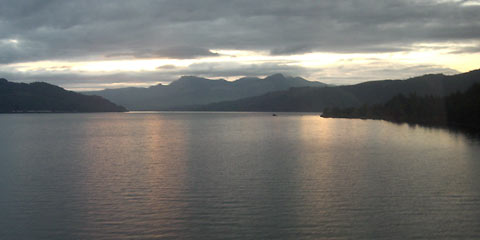 Near sunset Amtrak's Empire Builder is taking us along the Columbia River, heading east.
As it happened, my seatmate was a bright and friendly high school student named Matt who's thinking of a possible career in graphic design. We spent much of the four hour trip to Pasco, WA talking about design, politics, reading books and the kind of music Metallica plays. Matt's the kind of student any teacher would love to have in class, and I'd bet on his success in whatever careers he ends up choosing.
I hadn't seen Mt. Hood while in Portland because of low-hanging clouds, but as we rolled eastward into Washington we got this parting gift at sunset.
I have dozens of vivid memories of people I've met and places I've seen on the train. What do you remember from your plane trips?

Add your comment by clicking below.
Top | |