And so it begins...
Here we go: Joanne & I are planning to remodel our kitchen after, oh, twenty years or so in its current state. Last time around we did most of the work. This time we'll hire our son Danny to do it. One of the benefits of having a kid in the construction business.
In a preliminary conversation with him about fifty questions came up that we hadn't given any thought to, from cabinet and countertop colors to whether we'd keep the old woodwork, which shows its 100+ years in a pretty significant way.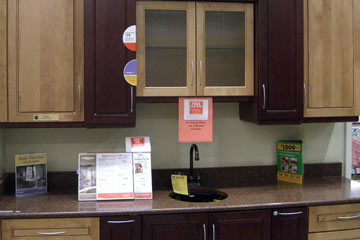 We stopped at Home Depot today for the innocuous task of buying a replacement bulb for our downstairs hall light. That task accomplished, we wandered through the kitchen display area looking at countertops (laminate, granite, Silestone, Corian?), cabinets (plain, fancy, dark, light?) and sinks (one bowl, two bowl, stainless, granite?).
Whew! Lots to think about. And that doesn't even get into the ideas we have about moving the washer and dryer into the pantry and reworking the first-floor bath while we have things torn up.
You'll be hearing more about this as the process moves forward. We've asked Danny to put us on his schedule for early in 2009, so we've got to reach some decisions pretty soon.

Add your comment by clicking below.
Top | |