Ingenuity, Day Three: Git yer hands in the air!
Grandmaster Flash
This was the big event of the evening, and a crowd of about 500 was ready to party when Grandmaster Flash came onstage. Two hours later I don't think anyone went home disappointed. It was one of the best street parties downtown Cleveland has ever seen.
I was a little worried at first: there was so much hype onstage it felt like a Cavs game. Three screens at the back of the stage endlessly promoted www.GrandmasterFlash.com, complete with animated logos, or flashed "MAKE SOME NOISE," just like at a Cavs game.
Flash himself constantly yelled "Git yer hands in the air!" He spun a few tunes and talked about the start of hip hop, explaining that he was "the first DJ to use the turntable as an instrument," a phrase which appeared on the screens frequently too). It seemed that this was a gig the Grandmaster had done many times before. But the crowd loved it, and gradually the energy picked up until it was really cookin'.
A clear sign of my age: as Flash played a rough chronology of early hip hop favorites the crowd often began to sing along (rap along?) as soon as they heard the first beats. I usually recognized the sound but was totallly clueless as to the lyrics. Ah well.
Along the way Flash, the first hip hop artist in the Rock & Roll Hall of Fame, talked about the history of hip hop, telling the crowd to remember other founders of hip hop, Afrika Bambaataa and DJ Kool Herc.
So you could say we got an education in hip hop, but that makes it sounds way too boring. A better indicator of how people felt were the smiles on faces all around the area. Even vendors on the edges of the crowd got into it, shaking their hips to the beat as they hawked their potato pancakes and kettle corn. Led by the Grandmaster, a good time was had by all.
Found In A Crowd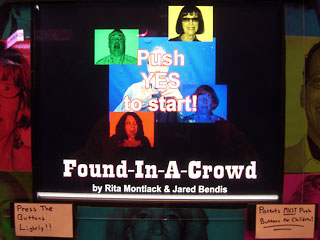 Close to 1500 people took part in this "interactive record of the 2007 Ingenuity Festival."
Festival attendees were invited to step inside a photo booth set up on the sidewalk and pose for happy, sad, and surprised photos. At right is the computer screen you saw inside the booth.
These photos make up the "crowd" and were displayed on a large projection screen not far from the photo booth.
Found In A Crowd website (I'm #865).
TOP | | |
ARCHIVE
JULY
JUNE
MAY
APRIL