Walk to Wendy Park
Rather than my usual walking route at Edgewater Park, I unloaded my recyclables in the parking lot, then walked out the road towards Wendy Park. The road parallels the railroads tracks for much of the way, passing next to the ore dock where huge piles of ore await transfer up the Cuyahoga to the Mittal Steel plant.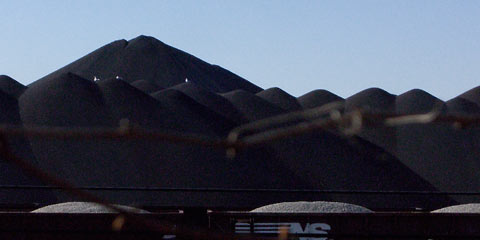 I took this picture through the chain-link fence, looking over the rail cars loaded with gravel to the ore piles in the background. The seagulls stood out brilliantly white, each one claiming the top of a pile.
Further east, where the park ends at the Cuyahoga River, I looked at the old Coast Guard Station and thought about how perfect it would be as the northernmost point of the Towpath Trail if/when it finally gets extended north to the lake.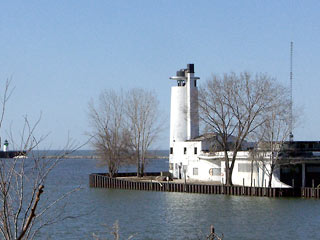 The entire complex is a great example of the streamlined "moderne" style of architecture. It could easily house a visitors' center, maybe a little cafe, and you could climb the tower for a great view of the harbor and lakefront.
The structure, built in 1940, is owned by the City of Cleveland and has been designated a Cleveland Landmark. Unfortunately there's no money to restore it, and it continues to deteriorate.
It will be a crime if it meets the same fate as the Hulett ore unloaders that used to stand nearby—right where the ore piles are. Instead of preserving this piece of Cleveland industrial history, the port dismantled the magnificent machines and replaced them with an automated conveyor belt system.
Top | |