JANUARY 3, 2009
If you could change anything about Cleveland...
I'm not the only one exploring this theme: recently I read about it on Twitter thanks to BrewedFreshDaily.com, and an earlier version appeared on City-data.com, probably other places too.
Before that—late 2007 and early 2008—artist Carl Pope solicited ideas from Clevelanders and put them on billboards around town, part of his The Mind of Cleveland project. Another recent contest was called 10,000 Visions of Cleveland. So I make no claim at all to originality.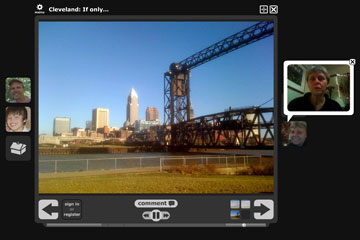 I do think that this highly interactive "Wish list for Cleveland" is the most fun. It uses an online service called VoiceThread to allow you to add your own wish for Cleveland in the form of a video (if you have a webcam), by phone, or by simply using the keyboard to type your comment.
In the screenshot at right you see icons next to the big picture representing people who've commented. The "balloon" is a video comment from Joanne.
Try it yourself: Cleveland: If only... To leave a comment you need to register for a free VoiceThread account, which takes about 30 seconds.

When you click the "comment" button you'll see icons that let you choose how you want to comment. If your computer has a webcam that makes for the most interesting comment.
To record a voice comment if your computer doesn't have a microphone, click the "phone" icon. Enter your number and VoiceThread will automatically call you back and record what you say. Or you can always just type a comment using the keyboard.
Why?
It's just fun and interesting to see/hear the ideas others have for Cleveland. Beyond that, though, I'm convinced that in order to change things you first have to focus on the kind of change you want. Once you know, you can move in that direction, as in "the longest journey begins with a single step."
Please share this with your friends and ask them to add their wishes.
Top | |