Digital cameras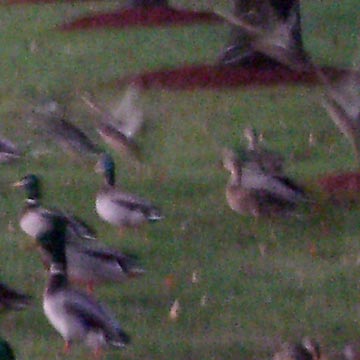 My recent history with digital cameras hasn't been good. I had a Fuji that lasted for a couple of years but became brain-damaged after being dropped on the rocks at Kelleys Island two summers ago.
I replaced it with a Casio Z850 that served me pretty well for six months. Its highly-vulnerable LCD screen got damaged by something sharing my pocket with it.
The Casio was followed by a smaller, lighter Canon SD1000 that I was never totally happy with. Its picture quality wasn't quite as good, and switching to audio mode—something I do frequently—was a multi-step procedure.
Not a problem—that camera lasted only a week before it was lost or stolen in St. Petersburg, Russia. Fortunately I'd brought the semi-functional Fuji along as a spare, and oddly enough it worked virtually perfectly throughout the rest of our trip. Good thing, because I was seriously bummed out by the prospect of not being able to document my life at that point.
What next? I didn't really want another Canon because of its shortcomings, but Casio no longer made the 850. Newer models have eliminated the optical viewfinder, a feature that had proven its worth when I trashed the LCD screen. I was still able to take pictures using the viewfinder.
New life for the old camera
I still had the Casio. Not a chance that I could have it repaired under warranty due to the type of damage, and when I researched Casio LCD repairs on the web there were quite a few horror stories about the factory repair service. There were also numerous mentions of a guy in California who repairs Casio products. I found many positive comments on camera-related websites, and the only negatives were posts by people who accused the others of being "plants."
I eventually emailed Tim at CasioRepairs.com. His $150 estimate seemed fair and I was all set to go when I read the instructions to mail the camera with a check or money order for that amount. If there's anything I've learned as a consumer is that you always want to pay by credit card so you can get help if things go wrong. Years ago a chi-chi Chicago store was ignoring my complaints about a pricey teapot I'd bought that didn't even whistle. Once I filed a complaint with the credit card company I got a very nice letter from the store manager promising a full refund if I returned it. When you're an unhappy customer your credit card company is a powerful ally.
I didn't want to give this up, especially for a repair, so I was about the forget the whole thing when I decided to email Tim and explain my concern. To my surprise he agreed to accept payment by credit card and I mailed the camera to him a couple of weeks ago. Yesterday I returned via Priority Mail with a shiny new LCD screen. The price for the repair was even lower than the original estiimate because the price of parts went down. At this point I couldn't be happier. I have a working camera, the cost was less than I expected, and I've broken with the throwaway mentality we have about small items like this. I have Tim to thank for the above... if you have any broken Casio products, contact Master Tim's Casio Repairs.
Oh, the ducks. That's just one of the first shots I took with my repaired camera. On Thursday there were lots of them around the pond at Tri-C Western Campus, displacing the usual Canadian geese.
Top | |