DECEMBER 18, 2008
Jury duty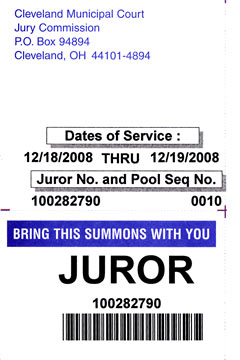 I called the official phone number today after 4 pm and felt like I'd again dodged a bulletin when the recording informed me that my services wouldn't be needed on Friday December 19th. It was like when you're a kid and you hear on the radio (remember radio?) that school is closed due to snow. In this case, two days in a row!
I feel a bit guilty to be elated over not serving on a jury this time. I was on one a few years ago and it was a great experience. In the process of finding an admitted crackhead guilty for possession but innocent on the more serious armed robbery charge, I learned a lot. I also came home with my faith in our justice system stronger than ever.
So, what did I learn?
Crack makes people do things they regret. "Strawberries" are women who trade sex for drugs, "raspberries" are men who do the same. People don't break off your car antenna as a random bit of vandalism: a short piece of car antenna with a bit of Chore Boy scrubbing pad stuffed in the end makes a serviceable crack pipe. It's not smart to be caught with one of these in your possession.
More important than this was how seriously the judge in our case took the "innocent until proven guilty" concept. He instructed us more than once that from the moment the accused stepped into the courtroom until the moment we declared him guilty—if we did—we were to consider him innocent. We were to listen to what the prosecutor had to say and only if we were absolutely convinced of the state's case against him could we stop viewing the accused as innocent. The state had to prove its case beyond a reasonable doubt. If there was doubt, the accused remained innocent in the eyes of the law.
It may not sound like much in words, but in action it was a powerful thing. In our case the accused, by his own admission, had done things he was not proud of. He had broken the law in the past. But he had not done what he was accused of. The system worked, and I was proud to have taken part.
Top | |