Portfolio class Mini-Review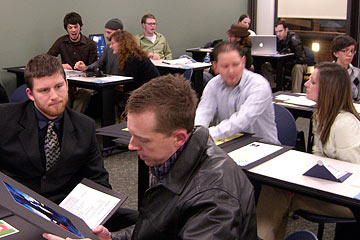 One of the highlights of the Portfolio Preparation class I teach at Cuyahoga Community College is the annual Mini-Review that we do about midway through the semester.
For the Mini-Review the students bring 3-5 pieces of their best work mounted and/or on the computer (for interactive work). The rest happens due to the generosity of Cleveland's professional design community.
I invite 15-20 designers, web developers, creative recruiters and video producers to spend the evening talking with students. I'm constantly amazed and gratified by their response. This year we were on track to have fifteen reviewers until a bad ice storm convinced several to stay home. The fact that a dozen eventually did find their way to our Parma campus is a convincing sign of how much they care about student success.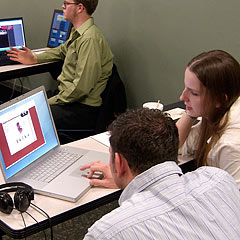 The Mini-Review takes place at the end of what is for most professionals a long and stressful day. They don't get paid to come to it—unless you count the coffee and pastries we offer them as a bribe. And still we have a good—sometimes great—turnout year after year. Several reviewers have told me they look forward to it, and many have thanked me for inviting them.
For students, this first encounter with the professional world can be very intimidating. At the start of the evening many are sweating bullets. By the end, most are smiling. It turns out to be both enlightening and reassuring. They learn about their strengths and weaknesses and get a better sense of where their career path may lead.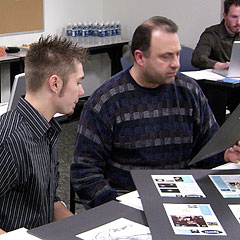 Here's what a few had to say after the Mini-Review:
I learned a lot on tuesday....It was greatly appreciated even if I didn't like what they had to say about my work....In the beginning of the night I was a little nervous but then I warmed up to people and it was just a natural thing. —Phil, Graphic Design major

I learned from sitting down with these people that I actually DO want to get into this field....The reviewers had my respect and so it was refreshing to chat with people who were sort of projecting to me what I might be like in the future. They all seemed cool, so I feel less intimidated about what kind of person I might become from working in a professional atmosphere. —Tom, Interactive Media major

I learned so much from this mini-review, and the big thing I learned is that while a bunch of people may love something, there's going to be at least one person who just hates it...Also that I need to really work on my niche, really focus in on it....Also, to work with details, because even they may go unnoticed by the general public, designers and people who will hire me will notice them, and if done properly, will set me apart from everyone else. —Aaron, Graphic Design major

I learned that I can confidently show my work and explain the work without feeling intimidated. I was shown that I have a lot to learn about design if I want to be successful, and that typography and design fundamentals need to be taken far more seriously than I did. —Garrett, Graphic Design major

Credit where credit is due
All this and much more happened thanks to this year's reviewers:
It's people like this who make my job not only possible, but enjoyable.
Top | |