Catching some rays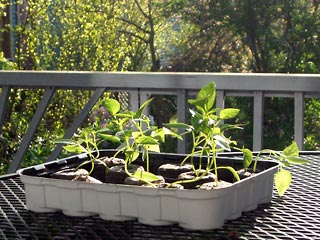 It was cool but gloriously sunny this morning, so I took my pepper seedlings out for some sun. I read somewhere that you should gradually acclimate them to the outdoors, so I took them inside after a couple of hours.
These little guys that I planted in early March don't look all that healthy— several are flopped over, and none seem to be what you'd call sturdy. I thought that the sunshine might help perk them up, but it didn't.
Last May's crop looked healthier, but then again they were a bit older when the picture was taken. We'll see.
Top | |