At last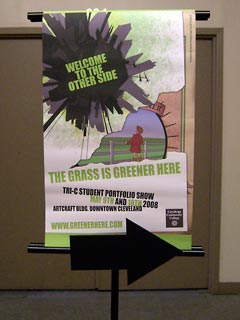 After months of planning, the Tri-C West VC&D Student Portfolio Show opened at 5 p.m. It wasn't a good sign that by 6 people weren't coming in. Eventually they did start to trickle in, and over the course of the evening we had 15-20 visitors, most family or friends.
The location, on the sixth floor of a hundred-year old warehouse converted to mostly artists' studios, was cool but kind of tricky to find. We made good use of big posters and arrows strategically placed to guide you from the freight elevator down the hall and around the corner.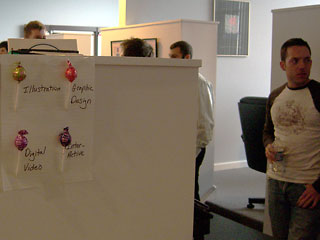 Once inside, we wanted to identify students by their majors, and the solutions the class came up with was different-colored lollipops. The hastily-assembled sign taped to the divider explains the color-coding we used.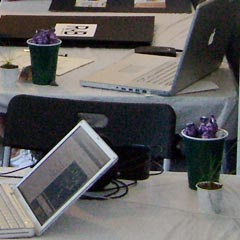 Here you see them in action, indicating that the students at these two tables are Interactive Media majors. Of course the laptops might do that too.
This year the IM majors were in greatest demand, possibly because we have better contacts in the web design community, possibly because that's where the market for new graduates is. Two students told me they each had several job offers for at least freelance work.
Top | |