Famous journeys
On a recent visit to Chicago I heard about GOOD magazine for the first time, and since then have encountered it in various forms, the most recent being their online interactive map, Wanderlust: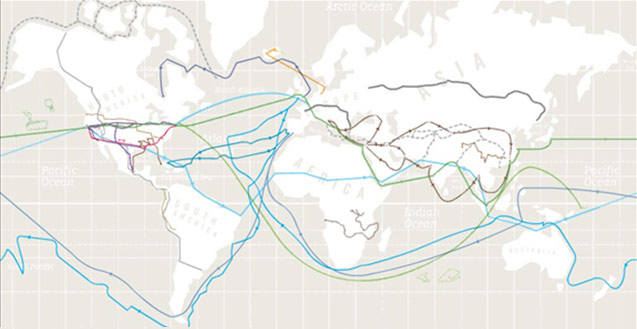 The various color lines show famous journeys, real and imagined. The list ranges from Marco Polo and Magellan to the Pequod in Moby Dick and Further, the Merry Pranksters' bus in Electric Kool-Aid Acid Test. The map's blend of historic and fanciful trips makes it for enjoyable to click around, but the EXPLORE link on each journey's description leads to disappointment most of the time.
One of the great strengths of interactive media—like this map—is that it can present vast amounts of information without overwhelming you. Essentially you only get the information you ask for, usually by clicking on a link. In the case of this map, each of the mapped journeys might be linked to dozens of photos, drawings, quotations, narratives, even videos, but each remains hidden until you click on it.
This is where the attractive GOOD map fails to live up to its potential, sometimes stunningly so.
Click on EXPLORE for Old Silk Road, a vast network of trails from Europe to China that caravans traveled in the 15th and 16th centuries. You'll see exactly two photos with brief captions, Rome and Chang'an. Magellan's three years spent circumnavigating the globe rates four photos. The much shorter Electric Kool-Aid Acid Test trip enjoys six photos, one of them being a Barry Goldwater for President poster.
It seems that most of the 23 journeys on the map are linked to about four photos. Maybe four was chosen in the interest of making a huge research task more manageable. I wish the editors at GOOD had instead opted to cover fewer journeys in more detail, or to wait to publish the map until they could offer more than a handful of seemingly random tidbits of information.
Grade: Idea, A. Execution, C-

What do you think of the Wanderlust map? Add your comment by clicking below.
Top | | i