Tears at the end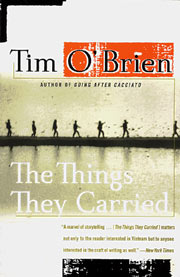 Thinking to take a ten-minute break before driving to work, I picked up The Things They Carried, a book I started three weeks ago but never finished. The chapters are short, so I planned to read one then leave for the college. But after one chapter I read another, and nearing the end of the book I got sucked in by Tim O'Brien's way of dropping a hint at the start of the chapter than only later is revealed. This time it was:
But this too is true: stories can save us. I'm forty-three years old now, and a writer now, and even still, right here, I keep dreaming Linda alive.
Who was Linda? Turns out LInda had nothing to do with Vietnam. She was a nine-year-old girl that O'Brien had loved as a child. She died at nine of cancer. In telling this story of heartbreak from his youth O'Brien ties together the tragedy and death he participated in as a soldier with heartbreak and death we all share as humans. Telling the story is his way of trying to save himself, in this case:
... it's Tim trying to save Timmy's life with a story.
Maybe it's because of a recent death in my family that this hit so close to home. As I closed the book the tears started to roll down my cheeks. More than I bargained for.
TOP | | |