Portfolio show pace picks up
With exactly one month to go before our annual student portfolio show on May 9-10, things are falling into place (and not a moment too soon). The visuals for the "Grass is Greener Here" theme have come a long way since the first brainstorming session. You can see an early version on the www.GreenerHere.com website today, and in the next few days the site should be much further along. The cows and picket fences have been left behind for an edgier look.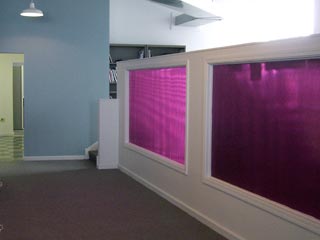 We'll be staging the show at a new location, a colorful and airy space in the Artcraft Building provided by Kelly Frye and Ten 29 Design. I think everyone will like the setup, which will be more spacious than last year's show at Gallery 324. I expect that the students will be thrilled to be in a real studio space. It shows that we're taking this seriously in a way that using the lounge area at the college could never do.
Every year it takes some time for the students to understand why we put all this work into the portfolio show. Many of them expect the class to be nothing more than a glorified lab session during which they work on their individual portfolios. But somewhere along the line they usually get enthused about the idea, and afterwards all the work seems worthwhile. I think we're finally at that point now.
Student success
There's been an outbreak of good news in the last week or so. Garrett got accepted, with a scholarship, to the University of Akron. Matt will be going to Savannah College of Art & Design, also with a merit scholarship. John got a college VC&D grant for next semester and will be interning this summer at Insurance.com. Mike will intern at Sheila Hart Design. Oh, and a couple of weeks ago, Cameron was hired by Brulant, one of Cleveland's top web firms. Obviously this is great for the students involved, and it validates their individual efforts. It's also a boost for our program and raises the bar for the students who follow. Gotta like that.
Top | |