Google maps
OK, I'm going to go all Web 2.0 on ya here, and recommend you fritter away more of your time with Google Maps. This particular tentacle of the search engine octopus lets you create custom maps that include as much detail as you care to add. You can draw lines to show routes, add points of interest—each with its own description—link to photos, video and audio.
What makes it Web 2.0 is how easily you can customize a map—or many maps—using simple tools built into a familiar Google-esque interface. I expect to see thousands of these popping up soon. You can create a tour of your country, city, or neighborhood. Map your vacation travels with pictures and sound and easily share it with anyone in the world.
In fact, therein lies what may be a downside for some: all maps have a URL that makes them accessible via the web. You can choose to make it "Private" but that simply means that it won't show up in a Google search. Google warns: "In general, we recommend that you don't create any maps that you prefer not to share with anyone." And by anyone, they mean everyone.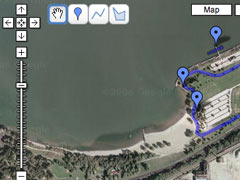 Still, the possibilities are pretty exciting. There's a map of London that includes panoramas from various spots in the city. Want to see the view from the Houses of Parliament or Westminster Abbey? Click on the map! For more map mash-ups, see Google Maps Mania.
My first map of Edgewater Park is pretty sparse by comparison. You can see the route I usually walk when I'm there. But stay tuned...I'll be adding photos and maybe video somewhere down the road.
Here's a more ambitious map of our 2004 eight-day walk along the Cotswold Way in England.
Seems awfully slow sometimes.
My DSL connection provided by SBC/Yahoo used to seem lightning-fast, but at times it seems incredibly slow. Like today. When I was experimenting with Google Maps it seemed to take forever for some of the maps to load. Once or twice I gave up and clicked away rather than wait any longer. Curious, I googled (of course) "dsl bandwidth speed test" and tried to find out. Here are the results: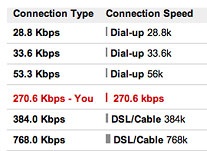 CNET.com Bandwidth meter speed test
I figured that CNET would have a good test since they provide unbiased (?) reviews of all sorts of internet products and services.
The test was very quick and simple. The results came back quickly in a no-nonsense format.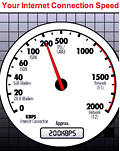 McAfee Bandwidth Speedometer
Again, I thought that McAfee—a major producer of anti-virus software—would be unbiased. Another quick and easy test, with results provided in a slightly more graphic format. Notice that the results are significantly lower than the one above.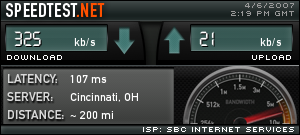 Speedtest.net Global Broadband Speed Test
The coolest of them all, this Flash-based application has a dashboard interface with animated gauges. Although it was much slower than the other two, I have to admit it was kind of fun to watch the needles on the gauges move.
This site automatically tested both download and upload speeds, which are dramatically different as you can see. I'm sure I should have known this, but I had no idea it was this different.
So, what have I learned? I'm not sure. The tests done only minutes apart show a range from 200 kb/s to 325 kb/s, a significant differnce. I don't know whether this reflects a variation in the test or minute-to-minute changes in the functioning of the internet.
I do know that AT&T advertises a download speed of 384-768 kb/s and a upload speed of 128 kb/s. My results are a whole lot lower, especially the upload speed.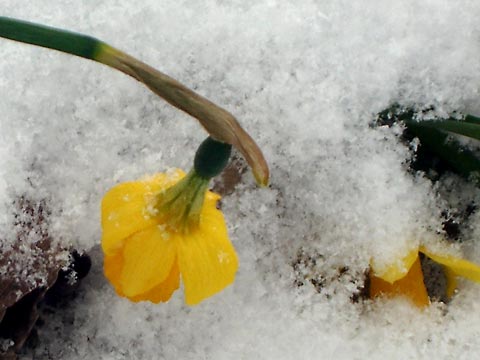 Buried in several inches of new snow.
Not a good day for the flowers
Wasn't a very good day for the Indians home opener either.